Information for Pool Builders
Brad Cross Watershapes designs creative pools and landscapes. We work with pool builders to help bring exceptional outdoor experiences to life – on time, and on budget.
Premium design services
for larger budget clients.
Our team has been working with pool builders for over 30 years.
Image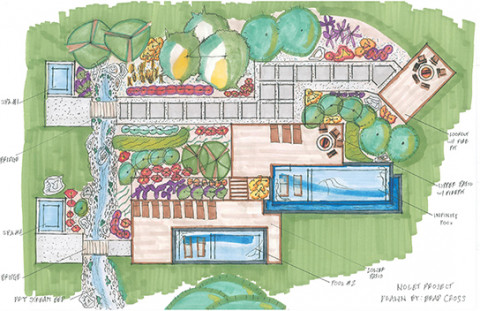 We design refined pools and outdoor spaces that are luxurious and beautiful, yet understated and simple. We're committed to beautiful work. Like the pool builders we work with, we're equally committed to a smooth, coordinated process and strict project management.
A Brad Cross project is a more lucrative project. We design only outstanding pools for extremely discriminating clients, so most of our projects have budgets well over $100,000. Our projects are more advanced, complicated, and impressive than is typical, which naturally leads to higher costs all around – from the technology to the build itself. Which means you and your team, as outstanding pool builders, are poised to earn more from the job. 
Image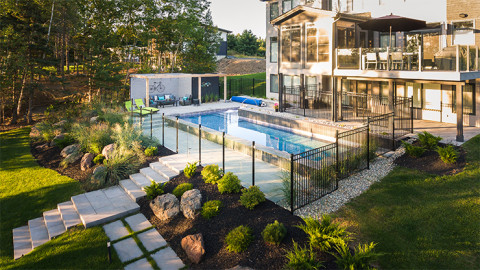 We've been around the block enough times to understand the importance of delivering how, when, and where you need us to. We want to please the homeowner as much as you do. And we work closely with you to make sure that happens. Every Brad Cross job is led by a dedicated and experienced Project Manager. Questions? Ask our PM. Meetings to attend? Our PM will be there. Our on-site Project Manager handles coordination with other trades, scheduling, budget, and every nitty-gritty detail that needs an eye. We work like you do – with a schedule that we hold ourselves to. It's the professional way to work. Period.
Image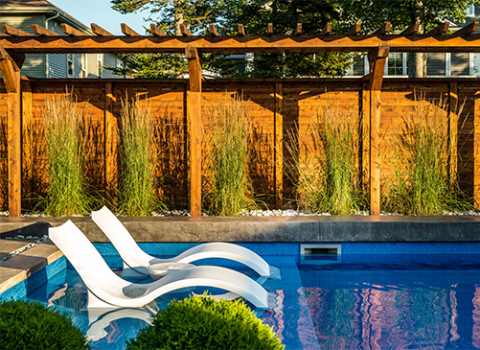 So let's do this. Let us help you impress your client, build something beautiful, and earn more than the typical – and boring – job. Our creative designs, along with your expertise in quality building, add up to an outstanding and completely rock solid project experience. And, critically, it leads to a client that's thrilled with their new space in every way.
Our Process
Fluid creativity melded with
buttoned-down professionalism.
The boldness of our designs might be surprising, but our design process is always predictable and precise. When you work with Brad Cross, you can expect a thoughtful and respectful experience – every step of the way. The entire process – from our first meeting to completed project – is comprised of three major stages, each with its own timeline and contract. Steps 1 through 5 are the design concept phase; step 6 is the working-drawing phase, where we determine exactly how to build everything and get it priced by contractors; step 7 and 8 are the site inspection and build itself. Here's how it works.
Consultation and proposal
We kick things off with an in-person meeting at your home. This is our opportunity to meet you, tour your site, take photographs and notes, and see if there's anything that stands out as a particular challenge. And this is your first opportunity to discuss your budget and your high-level vision for the space – show us photos you've found of other spaces that inspire you.
We use all this information to draft a proposal for you to consider. This proposal will include initial design budgets, an outline of project timing, and description of the project overall.
Discovery
Once you approve the proposal, you'll complete our in-depth questionnaire. Your answers give us an even better of idea of what your hopes and dreams are for your project. Then we take the time to closely analyze your site to uncover all the possibilities, limitations, and opportunities of your project. We literally leave no stone unturned.
Image
Brief
Based on our in-depth studies of your site and your answers to the questionnaire, we prepare a one-page brief that describes the project, the goals for the design concept, and a list of deliverables. This brief is an early snapshot of the entire project and will give you everything you need to proceed confidently into the design stage.
Image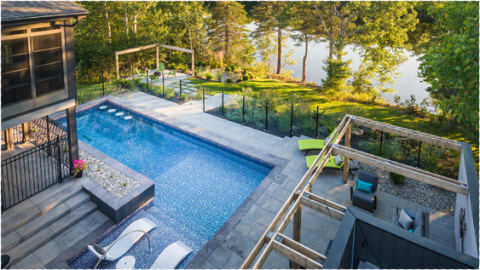 rough plan
Now that you and our team have a complete understanding of the scope of the project, the features, and your goals, we can start to put pencil to paper. The design process begins the old fashioned way – with hand sketches. Beginning with this loose approach allows us to constantly refine, edit, and explore every possibility. Sketches evolve from bubble diagrams to a complete concept plan, with dozens of alternatives, covering sun-studies, circulation, and viewing angles.
Image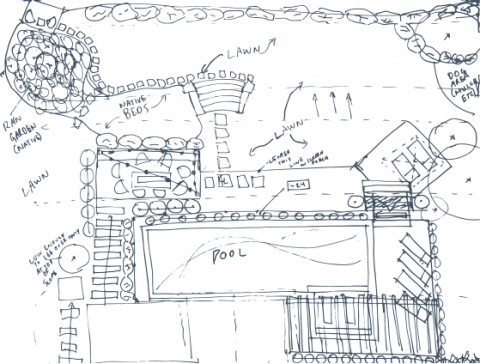 Design refinement
The design journey continues based on the decisions surfaced in the rough sketches. Our team refines all the design elements of your pool and landscape plan. We bring the design to life in a colour, 3D walkthrough of your space. This is a fascinating step that gives you a nearly perfect impression of how your new space will look and feel. It's the next best thing to being there. If this process reveals any challenges or concerns, we can address them with design edits.
Image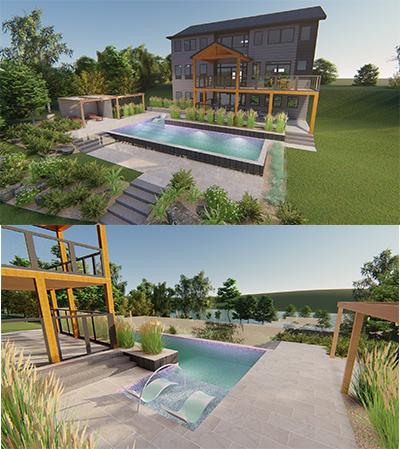 Construction plan
This step is a major one, and is best described as "how we start to turn ideas into reality." With an approved, master plan in hand, we can now accurately itemize construction needs. We consider everything from the materials needed to the timelines required, and craft a detailed construction plan of action. We send the plans to sub-contractors for bidding. These can be contractors you had in mind, but we're also happy to recommend contractors we think would be a good fit. We'll help review the competitive bids with you, and help you make the final decision that's right for your project.
Image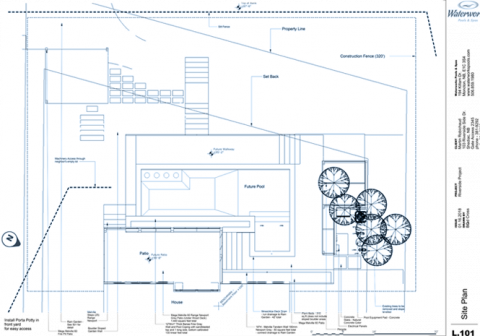 Plan submittals
We then submit your final project plans to the city in order to secure the required permits. This is critical step of course, and one for which we're at the mercy of your local bureaucracy – most of this step involves simply waiting for the green light to proceed.
Image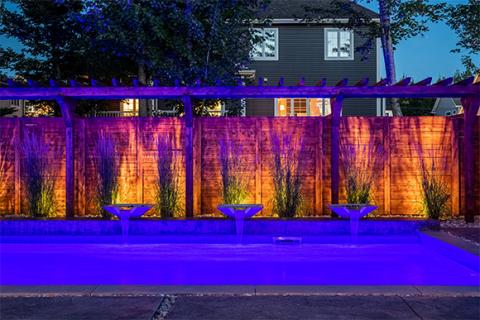 Quality control
Once construction begins, we don't fade away. You remain in good hands, and your vision remains safe with us. We oversee the build itself to ensure that the intent of the plans is upheld, and quality standards are met or exceeded. Weekly site visits and communication with the contractors help make sure that the build proceeds exactly as it needs to.
Image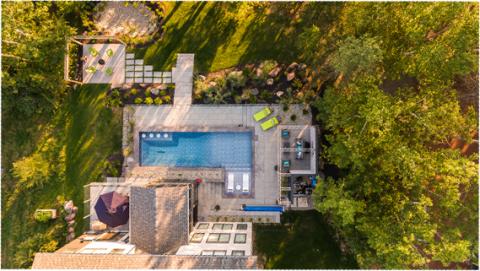 Please tell us a little about yourself, and what you'd like to have designed for your space. We'll get in touch within a day or two.
Note that Brad Cross Watershapes specializes in beautiful, personalized, and luxurious pool and landscape projects with a total budget of $150,000 or more. We take on only about 20 design projects and 10 construction projects per year. So we can only respond to requests that meet our stringent project criteria.
Monday to Thursday, 9:00am to 5:00pm
Friday, 9:00am to 12:00pm
194 Killam Drive, Moncton NB
Image

Image